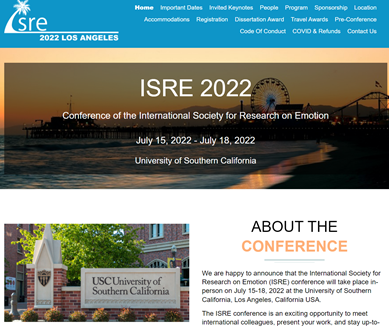 Workshop for "Emotions in Organizations" at ISRE in Los Angeles
Date:

08.03.2022

Together with partners from the Technion Israel Institute of Technology, Israel, and the University of Lancaster, UK, the team of the "Emotion-adaptive Systems for Hybrid Work and Learning" research topic, Prof. Dr. Alexander Mädche and Dr. Ivo Benke were able to successfully place a workshop at the renowned conference of the International Society of Research on Emotions (ISRE) in Los Angeles in July 2022. The ISRE conference is the premier venue for emotion researchers from different disciplines such as psychologist, neuroscience, computer science, or linguistics.

The workshop targets the understanding, theorizing, and influence of emotions in organizations and social media. The workshop will contain stimulating presentations and discussions from renowned researchers and innovative start-ups to provide new insights into the topic of emotions in organizations. More information on the workshop can be found here.